There are three main differences between LED display and LCD display.
First, the light source. The light source of the LCD is mainly called "backlight", which is set on the sides so as to make the display thin, and the light is distributed throughout the display by a light guide plate (LGP). In LED display, all individual pixels are able to emit light so even with the same brightness, it gives out a much greater impact and a sense of immersion for clients.
Then, the size. LCD displays are basically made in standard sizes that combination of a number of LCD displays is needed for the installation of a large display. As the standard displays are combined vertically and horizontally, there is also a limitation that the size of the large display has to a multiple of the smaller standards. Besides, the joints by the edges (bezels) are so visible between the liquid crystal displays.
On the other hand, the LED Display is constituted by combining modules on a single display in which LED elements are spread on a thin plate; it brings much less restrictions in its size and a seamless large display with no edges.
Advantages of LED Display
The light is emitted by individual pixels to give clients a greater impact and sense of immersion.
Not many size restrictions even for a large display with seamless configuration with no bezels and no edges.
Liquid crystal display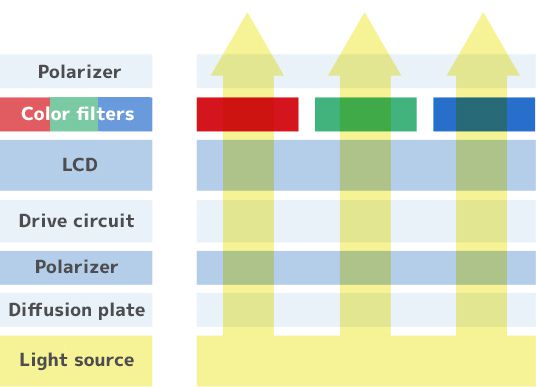 LED display